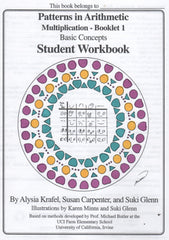 Multiplication 1 - Student Workbook
Multiplication:  Booklet 1 - Student Workbook - Basic Concepts   56 pages - stapled booklet
The Parent/Teacher Guide has instructions on how to teach the lessons, sample dialogues, games, and the Answer Key.  The Student Workbook has worksheets and practice pages.   We highly recommended that you order both for a complete package.
Click this title to download General Organization Grade 3 - a free PDF you print.
Assessment
Multiplication Concept
Number Sentence:  Review
Party Word Problems
Rainbow Times
Trains on Tracks
Number Lines
Attribute Grids
Building Word Problems
Multiplication Facts Chart
Building Times Tables
Finding Patterns in Tables
Daily Skip Count
Merry Mix Up Drill
Properties of Multiplication
Associative Property
Uneven Stacks
Factoring:  Manipulative
Factoring:  Recording
Multiplication by Addition
General Organization 3 includes:  Foreword by Professor Michael Butler, Introduction, Farm School Math Notes, Teaching Techniques, Arithmetic Conventions, Math Journal, Sequence Guides, Lesson Planning, Materials, Resources, Base Ten Materials, Series Overview.
Related Products