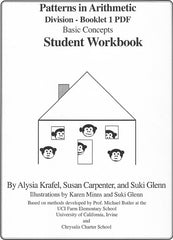 Division 1 PDF - Student & Teacher
The Parent/Teacher Guide has instructions on how to teach the lessons, sample dialogues, games, and the Answer Key.  The Student Workbook has worksheets and practice pages, which make a complete package.
To order click the Add to Cart button for Division:  Booklet 1 PDF - Student Workbook - Basic Concepts for a 56 page downloadable PDF for you to print.
Click this title to download Division 1:  Booklet 1 PDF - Parent/Teacher  a 45 page downloadable PDF you print.  This booklet is included in the price. 
Click this title for a free downloadable PDF - General Organization Grade 3 PDF.  Includes Foreword by Professor Michael Butler, Introduction, Farm School Math Notes, Teaching Techniques, Arithmetic Conventions, Series Overview, Math Journal, Grading, Sequence Guide, Assessment, and Materials and Resources.
Student Assessment
Concept     
Number Sentence
Monkeys on the Roof (fun manipulative approach to beginning division)
Recording 
Missing Factors 
Remainders
Families of Facts:  Patterns 
Two Formats for Division Word Problems
Post Assessment